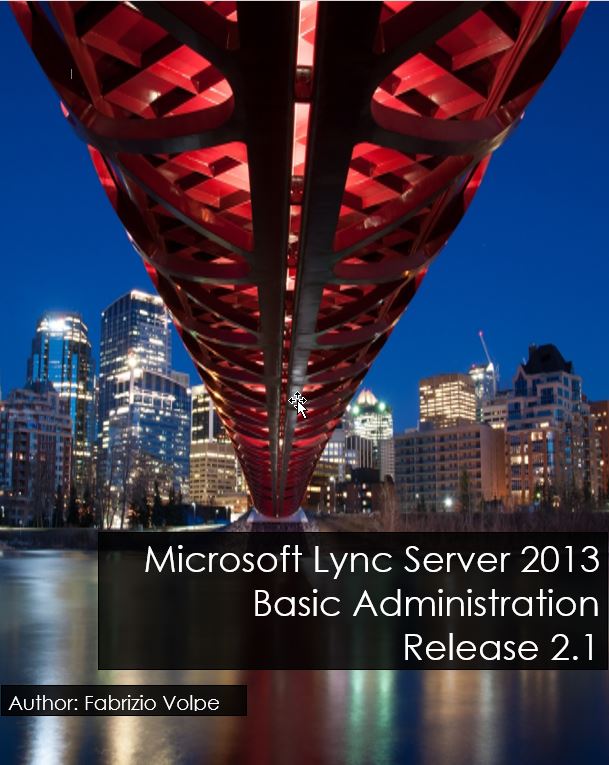 A free e-book dedicated to Lync administrators.
(Over 55,000 downloads)
Excerpt:
The book has the following contents:
Acknowledgements
There Ain't no Such Thing as a Free Lunch
Disclaimer
About the Author
About the Reviewers
1 Before You Begin..

What is Microsoft Lync 2013 server?
Why Lync 2013 matters?
Looking At Lync 2013 from the Client
Looking At Lync 2013 from the Server
Adopting Lync: What I Need and How Much Does It Cost
Extra Costs to Be Aware of with Lync 2013
Final Word
Lab
2 Building your Lync 2013 
READ MORE
Planning a minimal working infrastructure
Internal Lync Server Services Only
Try it now...
Lync Server Available for External Users
Try it now..
Exchange 2013 and SharePoint 2013 Integration
Assembling the required software and hardware
Virtualization
Acquiring the Required Resources
Realizing the Deployment Scenarios
Try it now..
Deploying the lab
Domain controller
Try it now..
Lync Server Front End.
Office Web Apps Server
Reverse Proxy.
Lync Edge.
Exchange and SharePoint
Lab.
3 Managing users with Lync Server Control Panel
Introducing Lync Administration from the Control Panel
Choosing Between the Control Panel and the Management Shell
Policies and Policy Scopes in Lync Administration
Roles in Lync Administration
Try It Now..
Enabling And Configuring Users
Enabling a User to Lync
Pool assignment
SIP URI configuration
Telephony options
Dial plan policy
Voice policy
Policy assignment
Try it Now..
Lab
4 Managing Clients, and Devices with Lync Server Control Panel
Software Clients
Try It Now..
Hardware Devices
Mobility
Some Things You Have to Do Outside the Control Panel
Try It Now..
Lab
5 Managing Users with Lync Server Management Shell
Administering Users From The Management Shell
Enable or Disable Lync Users
Try It Now..
Moving Lync Users Between Different Pools
Handling Policies From The Management Shell
Lab
6 Firewall Requirements For Lync Server 2013
Planning A Lync Deployment The Right Way: Tools You Will Love (Part 1)
The Basic Diagram Of A Lync Deployment We Will Use In The Chapter
Lync Server 2013: Internal Network
Servers Located In The Lan
Servers Located In The Dmz
Try It Now
Infrastructure Requirements
Firewall Rules Required For Lync Server 2013
Network Traffic From Servers In The Dmz To Servers In The Internal Network
Network Traffic From The Servers In The Dmz To The External Network
Network Traffic From The External Network To The Servers In The Dmz
Network Traffic From The Servers In The Internal Network To The Servers In The Dmz
Network Traffic Related To Lync Clients In The Internal Network
Notes Related To The Firewall Rules Required For Lync Server 2013
Verifying A Lync Deployment In The Right Way: Tools You Will Love (Part 2)
Verifying A Lync Deployment In The Right Way: Some High-Level Debugging Steps If Lync Clients On The External Network Are Not Working
Lab
COLLAPSE