Intro and Scenario
During 2015, both Jabra and Plantronics have released a device (Jabra EVOLVE 80 and Plantronics Voyager Focus UC) whose market is a small number of people that use Unified Communication in a professional manner and that have quite a good budget to buy a state of the art headset. The design of both devices is optimized to give to customers a smooth conferencing experience, both if they are traveling or are working in a noisy place. I had the opportunity to use EVOLVE 80 and Focus UC in the past months on a daily base and I would like to share with you my opinion.
Travelling, working at your desk and selecting the best headset
First things first: EVOLVE 80 is a device that works with a 3.5 mm jack incorporated into a USB controller.
This kind of solution gives to the headset a tremendous advantage if you think to use it also outside a UC scenario, with devices that have no Bluetooth capability. In addition, batteries will be used only for active noise canceling (ANC) if you enable it.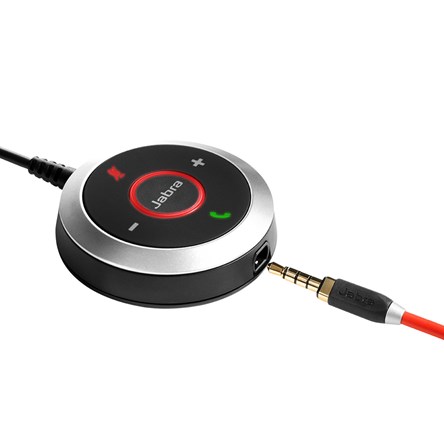 Voyager Focus UC is a Bluetooth device, and it is not intended to work with devices that have no wireless connection available (hint: there are many cheap adapters to connect to a 3.5 mm jack adding Bluetooth capabilities).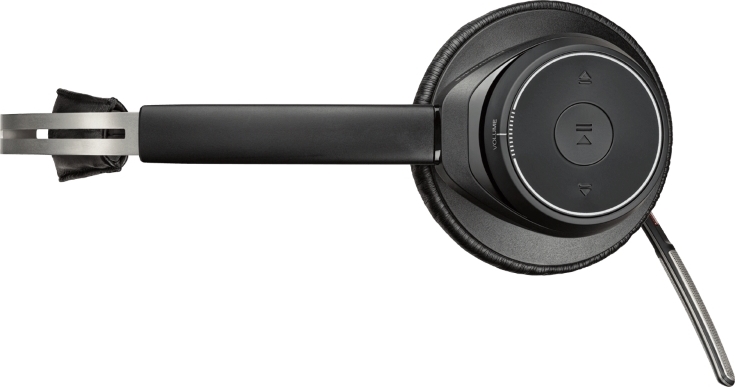 EVOLVE 80 is a large device (324 g / 11.4 oz) and gives you the perception of a solid device that you are able to put in your bag use while travelling  without worrying too much. On the negative side, using it on Summer or for many hours with no interruption is uncomfortable (someone said it gives you headaches, but I simply say that after a few hours you are aware of wearing it).
Voyager Focus UC is a light device (155 grams / 5.5 oz) and the perception, here, is of a device that requires a little bit of attention, not something that you would throw in the first free pocket of your bag. When you use this device, you almost forget of wearing it.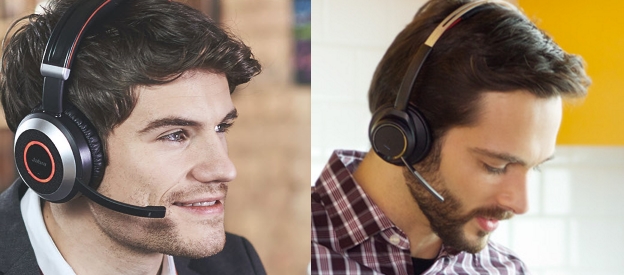 Both headsets have easy to use controls for music, volume and so on (EVOLVE 80 requires connection to the aforementioned USB controller to give you all the available features).
The on call / busy indicator on the EVOLVE is easier to understand for your coworkers, and that is an important aspect, especially if your company is still trying to spread the "presence status philosophy".
Larger earpads means that EVOLVE is a little bit better for (passive) limiting noise in a situation with a lot of buzz, but both producers give you ANC technologies and microphones that are able to achieve great results in any scenario.
Design of the Focus UC is good (I would have sold also a version with no charging stand… it is really just a nice and probably costly gadget from my point of view) while EVOLVE is a little bit older and more "function oriented" with less frills.
Final Thoughts
Both headsets are what every UC expert (or advanced user) could desire both for work and for free time. My perception is that the choice will be based on the cabled / wireless preferences that every one of you has. Also the weight will be an important aspect.