Just a year ago (14 August 2012) I started to create videos on YouTube dedicated to Lync 2013 http://www.youtube.com/user/Lync2013
The product at the time was in preview and also those who already had experience with the 2010 version of Lync had a lot to learn.
I had a few key points in mind when I started:
a) deal with technical topics, avoiding elements of pure marketing
b) focus on Lync 2013
c) use a native English reader, to prevent a non-perfect pronunciation that would make the use of video less simple
d) always add subtitles to help those who are not native English-speaking
e) use of female voices in the dubbing as an element of variety compared to most technical videos
---
Analytics After 365 Days Online
I like to reason with numbers, so here are the statistics for this year. To consider that due to other commitments, for almost three months I have not posted new videos 🙂

So we are talking about 125 views per day, and about 464 minutes watched every day (note that calculation of watched minutes is started months after the birth canal).
Finally, 267 subscribers and 160 likes (and predictable,some dislike).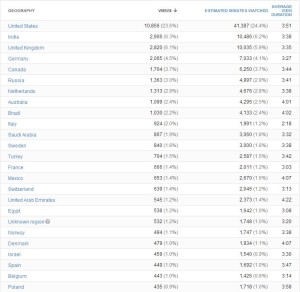 Visitors are mainly from English talking countries , but after the first three places, the composition varies greatly.
I would say, confirming the fact that the subtitles help.
Mostly male audience. Mobile devices are under 6%.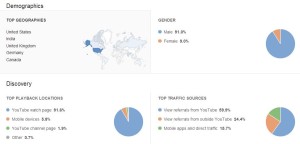 ---
Planning the Next 365 Days
The closure of this year still contains many projects, including a job that I care a lot with MVP Press ( Upgrading Skills to Microsoft Active Directory Domain Services 2012 ) and other commitments that I have to conceal for now.
Nevertheless, it seems that this type of work has its own utility, and so I hope to be able to produce at least one video per month.
One of the ideas I plan to realize, for example, would be a video to help users in the change from the Lync 2010 client to the Lync 2013 client.
I think that all channels are useful to help other people to deal with a complex product like Lync 2013.