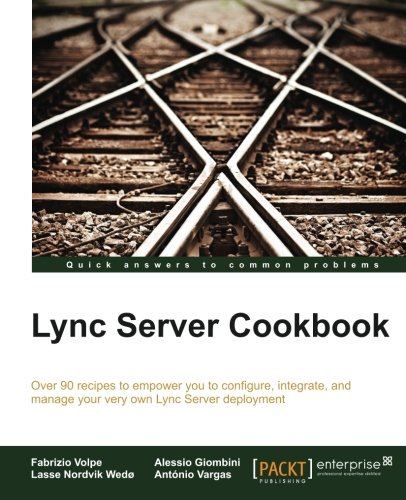 Over 90 recipes to empower you to configure, integrate, and manage your very own Lync Server deployment
About This Book
Customize and manage Lync security and authentication on cloud and mobile
Discover the best ways to integrate Lync with Exchange and explore resource forests
The book is designed to teach you how to select the best tools, debugging methods, and monitoring options to help you in your day-to-day work
Excerpt:
Who This Book Is For
If you work with Lync on a daily basis or if you have to use a specific feature of Lync for a project, this is the book for you. For solutions architects, technical consultants, and administrators, if you have a Lync deployment and you want to upgrade, integrate, secure, or extend it to the cloud, you can get valuable information from the recipes in this book.
READ MORE
What You Will Learn
Deploy dial plans, voice routing, and location policies to build a successful Lync enterprise voice infrastructure
Understand Lync solution proposals, from requirement gathering and assessment to planning and design
Deploy Lync Online and Lync hybrid and understand their tools and features
Monitor Lync and diagnose issues from the gathered data
Throttle and optimize your network to ensure quality of service for Lync
Integrate Lync with Exchange to add features and services
Discover more about the available debugging tools, such as OCSTracer and Wireshark
Understand the steps required to upgrade from OCS and from Lync 2010
In Detail
This book begins with the fundamental security-related tasks you should be aware of when working with Lync, before moving on to walk you through the authentication mechanisms. You will get hands-on experience with the steps required to integrate Lync with Office 365, Exchange, or trusted forests. You will explore how to use various tools such as the Bandwidth calculator, Lync resource kit tools, stress and performance tools, and planning tools that will help you to manage complex Lync features such as enterprise voice. This book will take you through designing a Lync solution right from assessing the existing infrastructure and capturing the requirements through to planning for user-training. Finally, the book concludes by showing you how to control and manage your networks and introduces you to various debugging tools such as Wireshark, CLSController, and more. The book aims at empowering you to successfully manage your Lync deployments with ease.
COLLAPSE